Thanks for visiting my web site.  My name is Jennifer.  I am located in Kenosha WI.  I am a member of the Bulldog Club of America.

I have been in love with the Bulldog breed since 1998 and purchased my first Bulldog "Gracie" in March of 2002.  Gracie came into my home and took over!  She was always entertaining with her clownish behavior.  It wasn't long after Gracie that I realized you can't have just one Bulldog so I began my search for my next puppy.  I have been hooked ever since and can't imagine life without this Breed!

I actively compete at All Breed and Specialty shows and have had much success in the show ring.  I have finished 6 Champions and have 5 Bred by Champions to date.  My most exciting of the finishes was my first bred-by champion, Ch. Winsome's Let's Miss Behave.  I take pride in breeding sound health tested bulldogs and spend much time researching pedigrees and doing my best to improve on each generation I breed.  My Bulldogs are tested for many common health problems including, cardiac, eyes, thyroid, patella's, trachea's and more and I will gladly provide you with certification.  

I have always loved spending time with my dogs and knew that they were my passion.  I began showing in obedience in 1987 with my Collie.  I began a career with dogs in 1992 as a Dog Groomer and Professional Trainer.  Many of my current dogs have their CGC (Canine Good Citizen)  a couple are even registered Therapy Dogs through Delta Society and one has it's CD title (Companion Dog).  I have done all kinds of training from Herding, Agility, Rally and Obedience work.

I hope that you enjoy my web site!  Feel free to contact Me by the e-mail link on my site.  Please note however that I spend much of my time on the road showing dogs and sometimes it may take me awhile to get back to you.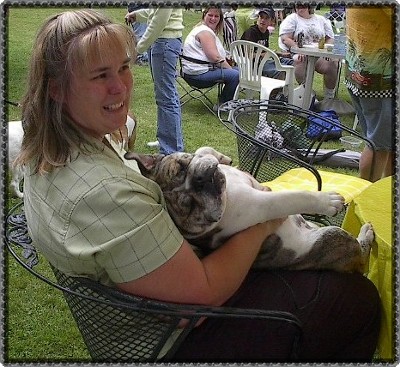 To send me an e-mail please click here.